David Vinson – LaGrange, NC
The Augusta 2847 did real well for me this year for any early corn. It averaged 165 bushels per acre and had beautiful grain quality. I will use it again.
Kevin Richey – Taylorsville, NC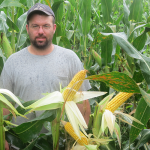 Augusta 2847 is a very good early season silage corn. It averaged 28 tons per acre on my farm.
Barry Jenkins – Pleasant Shade, TN
We harvested Augusta 2847 on August 17th at 17% moisture! It averaged almost 200 bushels per acre!
Ronnie Hunt – Calhoun, GA
We like A2847 because we can get started harvesting quicker and get it out early. The standability has been great and it dries down well. It averaged right around 200 bushels per acre.
Ronnie Holland – Lafayette, TN
I like the A2847…it stood well, had great grain quality and really good emergence. I had no problem shelling it because it came off the cob great. This early hybrid was as good or better than any corn I've ever raised!
Jeremy Baldwin – Rileyville, VA
Good corn! I'm real happy with A2847GT3 making 200+ bushels per acre this year!
JN Rainey – Pleasant Shade, TN
Some of my customers are saying the A2847 is their best corn ever! It sure works here in TN!
A2847 averaged 201 bushels per acre at 13%!
Hank Bond - Wallace, NC
I am very impressed with A2847. It harvested 175 bushels per acre over 30 acres dry land.